This is a post I've been meaning to write for ages, and now that I have the final prints on the wall, I can! When we moved into our house nearly 9 months ago, we always knew that Arlo was destined to have one of the smaller rooms in the place in comparison to his brother and sister (3rd child problems), so it needed to be a space that grew with him, and that would still fit furniture as well as a full-size single bed once he'd outgrown his toddler bed. We wanted the room to be an eclectic toddler boy bedroom, full of things he loves, and chose the colour wall paint, Dulux Denim Drift, accordingly.
His old bedroom was lovely, but we played it quite safe with grey and white star wallpaper. This time, I wanted to be a little bolder with our colour choice, whilst still leaving room to accessorize it with pictures and trinkets of the things he loves. After falling in love with the colour after seeing various rooms on Instagram (I love that you can search for hashtags of style ideas or paint colours to see what they look like in situate), we decided to paint 3 walls in his room in Dulux Denim Drift, a bluey-grey blue, well, denim colour, which we thought would make his white furniture 'pop'. Myself and my Mum cracked on with the painting in here, and as a nervous decorator I was really pleased with the result.
We also decided that we didn't want a particular 'theme' to the room, and that it needed to adapt to his tastes and interests as they grow. This is a 2 year old who loves dinosaurs, animals, Paw Patrol and anything colourful, so we wanted a space that would be home to all of these without looking too 'messy'.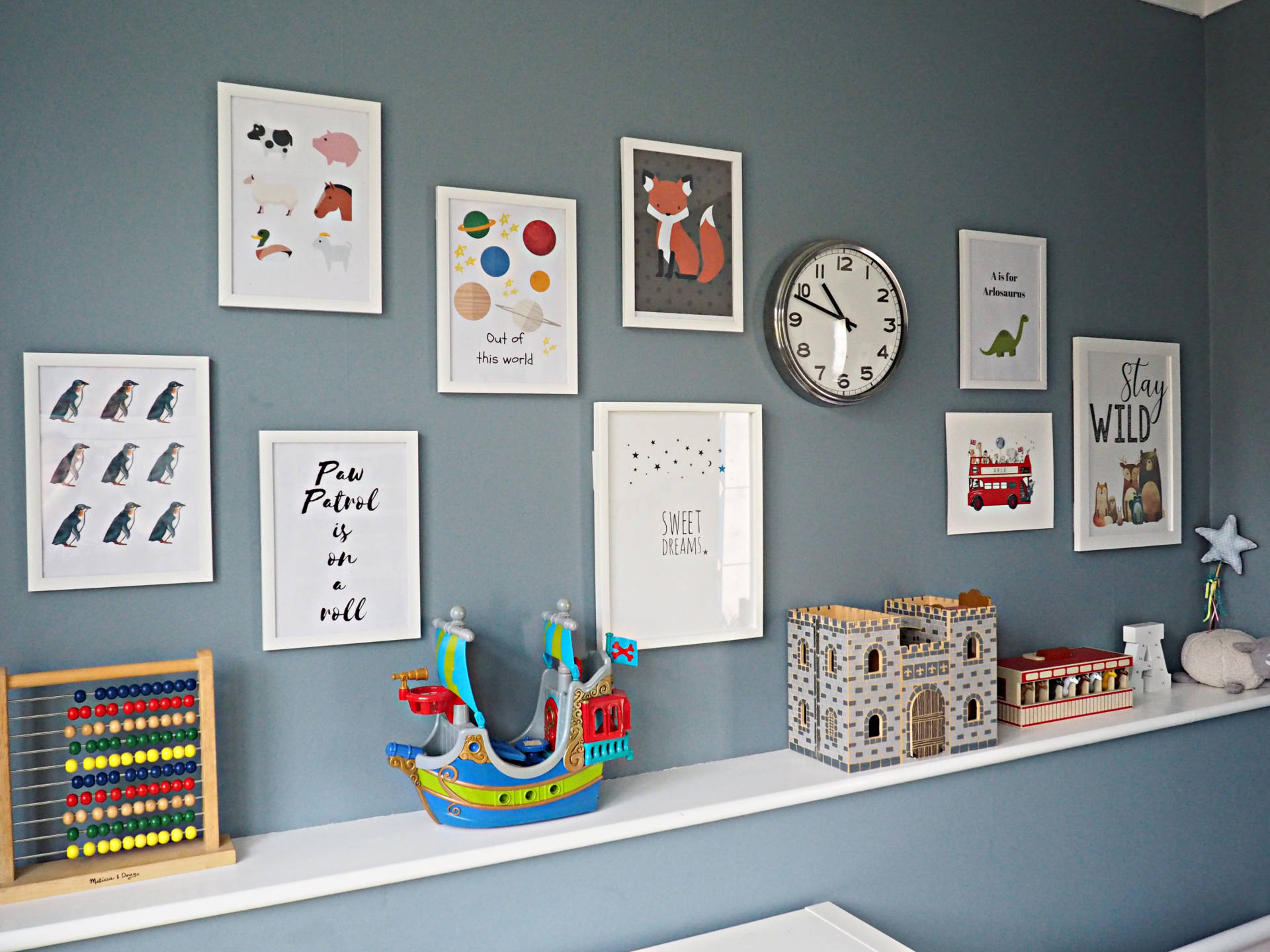 His bed is Sasha's old toddler bed, which fits perfectly into this space. The white bedding with black woodland creatures on is from Vertbaudet, and the Scandi-style animal prints above the bed here are from a seller on Etsy, and go well against the Dulux Denim Drift background.
I'm really pleased with his gallery wall, and have used a mixture of bought and self-printed prints (some of which I made myself on Canva, I must do a tutorial on this soon!), using cheap white frames held on with Command Strips so that they can be moved about if required. I love the 'Stay Wild' print from 'Pug Pup Prints' (gifted), and the personalised 'Arlo' bus print was a gift from one of his Great Aunties.
Most of his toys are stored in the Ikea Kallax storage that we're still getting good use out of since buying it for the older two children several years ago #AllHailTheKallax. In the future we want to do a garage conversion that will become a playroom predominantly for him, so we can then move this down there and make room for a bigger bed.
Around the window I stuck on these little black dinosaur decals that add some interest to the white wall. These were so cheap to buy, and are a great option if you think you want to change a room up quite often, or if you live in rented accommodation.
On the final side of the room is Arlo's wardrobe (Ikea), and one of my favourite things, the Greenaway Bookcase from Great Little Trading Co which was gifted to us a few years ago and I still love it just as much today. It's a great way of housing and displaying books in a space-saving way, and little ones can see them clearly too.
There's still a couple of jobs to do, such as replacing the carpet, and the more frivolous one of changing the radiator to something more stylish, but essentially it's a finished room for our special little boy. I've really enjoyed having fun with styling this, as it's the last time we'll get to play about with kiddy interiors before Arlo starts having an opinion of his own when it comes to bedroom decor- as his older siblings now certainly do!
If you have any questions, please feel free to leave a comment below!
See some more our home and past homes over here