I have been asked a few times lately by different people: "Where's good to go in London with children?". As someone who is bringing up children within the Big Smoke, we sometimes take it for granted that this city really is our playground, and it's second nature to me take a two and three year old, alone, on the bus/train/tube/walking with a buggy and various other paraphernalia that comes with going out and about with small people. So… with the long summer holidays upon us (oh preschool, I will miss you!), I thought I would share my favourite places to go, and any tips that I've learnt throughout my time here.
1. The splash fountains at City Hall
When the weather is hot, we love to hop off the train/tube at London Bridge, and head along Tooley Street, to the splash fountains by City Hall. A magnet for children on a hot day (bring a towel and swimwear!), you can easily lose a good half hour letting your little one have fun in the water. Freddie absolutely ADORED it here, and it's such a joy to watch, with breathtaking views of Tower Bridge and The Gerkin whilst you do so. There is a 'Strada' cafe/restaurant next to the fountains, but if you bring a picnic, you can head the really short walk from here towards Tower Bridge, and on the right hand side past City Hall is a large grassy area where you can sit. This has such a good vibe in the early evening, with families mingling with post-work drinkers happily, and often live music playing from 'The Pit' nearby.
2. The Science Museum:
Here is possibly one of the first London venues that springs to mind when it comes to where to take your children, but I have a few hints and tips if you're taking a toddler. The basement is where it's at for under-6s. My two could spend all day here, and we need never see daylight again! With a waterway play system, wheelbarrows and giant lego bricks, a bean bag pully platform system, plus music and sensory areas, there is just so much to do, and the staff I've come across have been super-friendly. I try and get there for opening at 10am, as is quiet to start with, before heading to the staggered seating (also in the basement) for an early packed lunch about 11.30am. By the time we've finished this and head to the ground floor to the Pattern Pod (an amazing place for puzzles and sensory for smalls), it's quiet- everyone else has then gone to lunch! I've got this timing down like a pro! I was also chatting to a member of staff on our last visit, and she gave me a tip for the summer holidays. She said it is busy most of the time regardless of the weather, but on a sunny day is REALLY quiet from about 3pm. I am going to try this time in the hols, and then bring a picnic tea to have afterwards.
3. Tate Modern:
This might be the last place you'd think of to take a young child, but it's surprisingly toddler-friendly! Okay, so you don't want them going bonkers, screaming and climbing over the art, BUT… there is still lots of space for them to move around freely and loads to look at and talk about. I took Sasha the other week when F was at preschool, and people there were positively BEAMING at her, and a couple said to me how nice it was to see little ones around the place. On the 3rd floor near the cafe is an interactive drawing centre for children, where they can scribble something and see their creation appear on a big screen in front of them. The shop here is where I pick up unusual and/or beautifully illustrated books for the children too. Outside the front of the Tate Modern building is a large grassy area, so again, great for bringing a picnic and meeting friends, with a lovely view of St Pauls and the river. Worth a punt if this is your sort of thing, and there are often special events and exhibitions on that are suitable for children. We went to the Damien Hirst one a couple of years ago, and a tiny toddler Freddie was fascinated by the pickled animals and a temporary butterfly house (with real butterflies!). Win for grown ups = win for children.
4. The Southbank:
If you avoid the manically busy part of it near the London Eye and Aquarium and head east, it's the perfect place for your toddler to blow off some steam and walk safely along the near-totally pedestrianised river front. With eateries aplenty, plus buskers and street shows galore, it's a great way to view the London skyline, and my two always love watching the boats speed by. 'Giraffe' is our favourite spot for lunch, and is under the National Theatre, but I always get here for 11.45am in order to get a table and be served fairly quickly. Further down towards London Bridge, past the Tate Modern, there is a Zizzis, Pizza Express, plus numerous pubs and cafes. A good cafe to stop for a break halfway between the The London Eye and London Bridge is Cafe Nero under the OXO Tower- nearly always pretty quiet with a large downstairs loo and baby changing, so a great stop off for little legs.
5. Borough Market:
Since our train comes into London Bridge most of the time, this is often one of our first stops when we hop off. We are a bit naughty and don't always buy something (although most of the time we do, the quality and variety of food is awesome!), but most stalls have trays of 'tasters' for you to try. This is great for little ones, and F and S have enjoyed trying out many different samples of cheeses, breads, meats and chocolate brownies in the past! Most stall holders are keen to encourage children to try something new food-wise, so it's definitely worth a visit and don't be shy asking! With Freddie I often play a game and get him to guess what he is eating- some of the answers are hilarious, but it gets him thinking about different flavours and about where food comes from. Good fun if you don't have a picky eater!
6. Bethnal Green Museum of Childhood:
A fairly new discovery for us. Mum and I took F earlier this year and had a blast! It's free to get in, has a huge buggy park in the lobby, and most importantly there is loads to do and look at for kids, plus you get a trip down memory lane! There are displays of toys from every era (I got nostalgic pangs seeing Sylvanian Families and old skool fisher price toys), plus the chance for children to get involved. For example, there are rocking horses for little ones to ride if they are not Freddie, he hated them and an interactive corner, where staff are on hand to demonstrate different toys before your child has a go themselves. When we went there was Duplo and Lego, Scalextric and slinkys, which F was quite taken with. The cafe there is great, and there is a soft play area for under 3s. The museum is on the Central Line, but since Bethnal Green tube station isn't very buggy-friendly, we got the bus instead and it wasn't especially busy, even on a Saturday.
7. Shoreditch/Columbia Road flower market:
Okay, so this is more adult-orientated, but it shows that you can do some of the things you want to do in even the most built-up areas with kids in tow. We love Columbia Road flower market, and just off here is Ravenscroft Park, a big grassy space and playground which is a playtime oasis right in the middle of blocks of flats. Adam often stays with the kids whilst I peruse the flowers- anytime after about 10am is not particularly buggy-friendly. You need to get here for 8am in order to browse stress-free with smalls!
8. Mudchute Farm: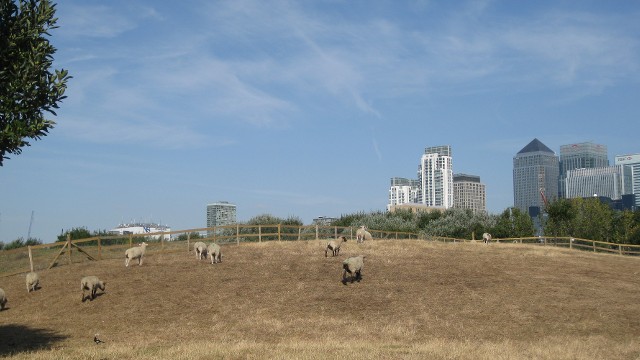 Another gem that we love, right in the heart of the Docklands! Hop off the DLR at Island Gardens or Mudchute (the DLR is a dream for buggies), and head to this brilliant urban farm. It's amazingly free to get into (although donations are always welcome), and in a surprisingly big space there are loads of animals for little ones to see, all with Canary Wharf in the background. There is a reasonably priced cafe that is open on the weekends and in the school holidays, although this does get busy quickly. This place is probably best-suited to preschoolers, as older children might find what's on offer a bit more limited.
9. The Shard
A surprising hit with our two, especially Freddie, we went here in April for Adam's birthday. If you have a train-mad small person it's fantastic- you get a bird's eye view of the track and trains in and out of London Bridge, heading to various other stations. F could have spent ages lying down on the floor by the window and watching them! Sasha was a bit more restless, but there is loads of room on the viewing platform for them to run around, and you don't annoy anyone as numbers of people are kept to a minimum. Well worth the money, with or without children.
10. Camden/Primrose Hill/London Zoo
As someone who lived in Camden for a few years pre-children, I can safely say that you want to avoid Camden Market with young children on a weekend- it is HELL with a buggy. Also, Camden Town tube station operates a policy on a Saturday whereby you can only use the crazy amounts of stairs to go down to the platform, rather than the escalator, so you will want to avoid here also. During the week is the best time to go- all the fabulous shops and food stalls are still open and there is much more room to enjoy them freely. However, if you do want to go on a Saturday or Sunday, arrive EARLY, and either hop on a bus here, or you can get the tube to Chalk Farm (there are a few steps here, but okay if you're with someone to lift a buggy, and I find most people always help if you are on your own). If you hop off at Chalk Farm, you can turn left out of the station and walk the short distance to the market. After you've had a browse, head back towards Chalk Farm, and before you reach the tube, turn left down Regents Park Road, and left again over the pedestrianised railway bridge, and this brings you to Primrose Hill. If you walk straight down Regents Park Road after you've crossed the bridge, and past all the shops, you'll get to Primrose Hill itself. This is a perfect place to bring a picnic, or some food from Camden Market (Primrose Hill delis are PRICEY!). The view from the top of the hill is incredible, and there is acres of space for smalls to run around, plus a fantastic playground and decent public toilets. Primrose Hill is also right next to London Zoo, but you might be a bit knackered to it all in one day! Alternatively we've been to the zoo early doors, and then headed to Primrose Hill and the playground after for a picnic. The photo of Sasha (above) is her first trip here, where we had some lunch and Freddie ran around like a loon!
These 10 are just for starters, there is SO much to do in this fabulous city!
Where are your top spots in London for taking little ones? I'd love to hear!